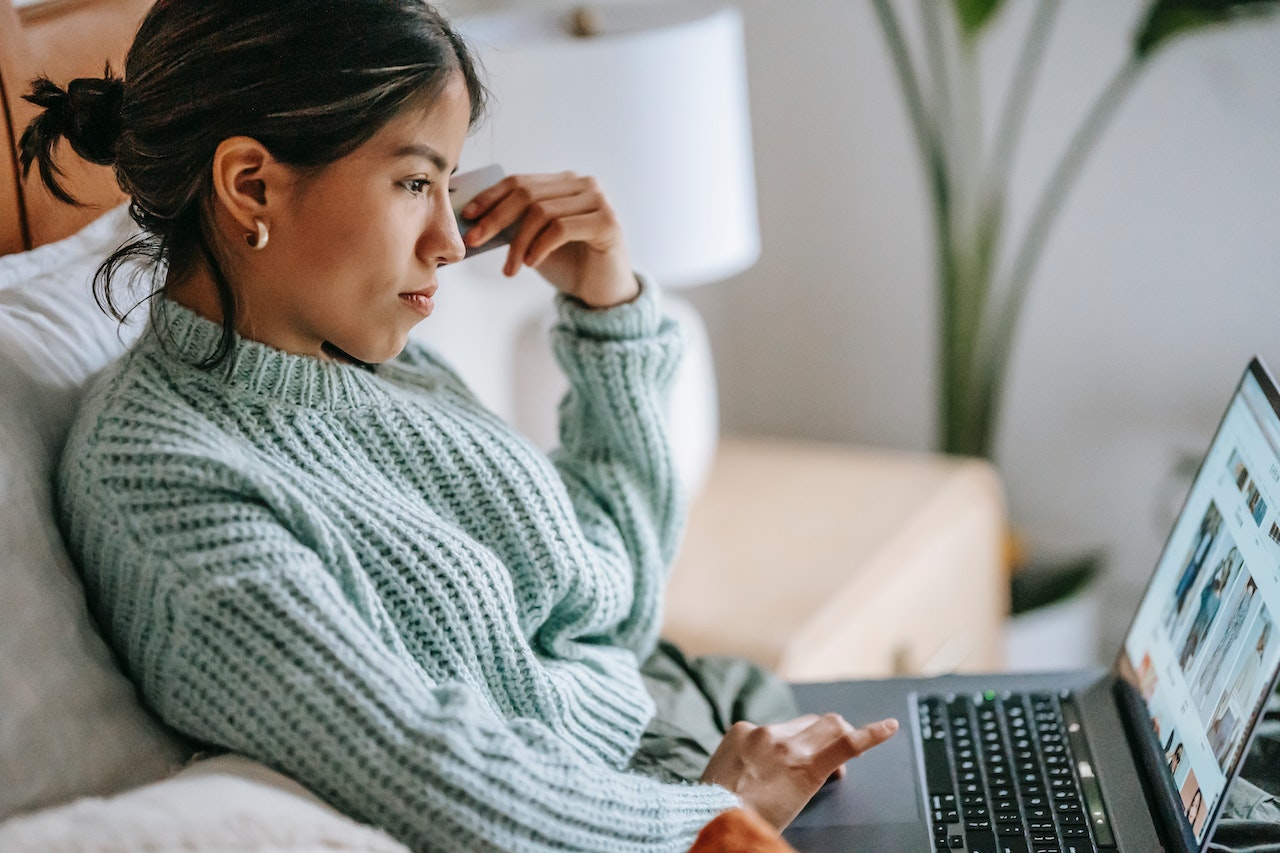 How to Set Up Recurring Payments with Clover
Clover is one of the most trusted brands in point-of-sale systems because they are constantly introducing new products geared toward helping merchants grow their business and increase revenue. 
Businesses are now able to accept recurring payments and automatically charge customers at an agreed-upon interval. This is essentially a "membership" or "subscription," and enabling this option can result in greater customer retention and less friction at checkout. Here is a look at how to get the most out of Clover's recurring payment feature.
Why Are Recurring Payments Important?
Recurring payments offer numerous benefits to both merchants and customers. They allow customers to quickly automate payments for products and services they regularly order. It will also enable businesses to create predictable income streams that require minimal effort to maintain. Here are a few reasons why companies should consider setting up Clover recurring payments.
Predictable Cash Flow
Steady cash flow is essential to the success of any business. Setting up Clover's recurring payments feature makes it easy to create a predictable cash flow from your loyal customers. If you need a quick revenue projection over a given period, recurring payments make this simple.
Just multiply the number of membership subscriptions in Clover by the average order price, and you will know exactly how much revenue you can expect. This can be a lifesaver to startups and small companies who may not have the same predictability in other aspects of their business.
Improved Customer Retention
Clover's recurring payments make it so you can retain loyal customers without much additional effort. It becomes tedious and time-consuming if you need to reach out to every customer individually and solicit their business every month. But if you set up a recurring payment with Clover, all you have to do is send them an automated thank you message and add them to your email list, and the rest will take care of itself.
Decrease in Late Payments
Clover's recurring payments will ensure your customers pay on time every month. Rather than manually making a purchase every month to remain in good standing, customers can enable autopay so their card is automatically debited every month.
Minimal Effort Required to Make Sales
Clover's recurring payments make it simple to bring in recurring monthly sales with minimal effort. With a subscription model, your sales department can focus on the more difficult task of bringing in new customers and provide your existing buyers with an easy way to enjoy your offerings month after month. So, membership subscriptions with Clover will increase revenue and help you eliminate unnecessary costs related to customer acquisition.
Secure Platform
Clover is a secure platform equipped with end-to-end encryption, tamper detection, and other essential security features. So, when you set up Clover recurring payments, you never have to worry about your customer's financial data being compromised.
How to Set Up Recurring Payments with Clover
This exciting new feature will be available to all merchants starting November 15, 2022. Here is a step-by-step look at creating a new membership subscription with Clover.
Step 1: Sign Up for a Merchant Account with Synapse
You need a merchant account to use Clover, and Synapse has the lowest rates on the market. Activate a new Synapse account or contact us about switching from your current processing company. Synapse will set up your Clover dashboard once your account is open. Your dashboard is used to collect payments from customers online and gives you the ability to enable recurring payments with Clover.
Step 2: Activate Recurring Payments
Next, you'll want to activate recurring payments. Go to Account & Settings > Virtual Terminal on the Clover Web Dashboard from the virtual terminal dashboard. You'll find the recurring payments and invoice manager in the left navigation menu on the Clover Web dashboard.
Step 3: Create a New Recurring Payment Plan
To create a new membership subscription with Clover, you'll need to add a plan. Click on recurring payment in the left navigation menu to create a new payment plan. You'll give the plan a name and then enter the default subtotal and frequency of the charge. You'll also have the option to add any default tax or tip amount. Then you can either activate the plan or keep it inactive for the time being and click save.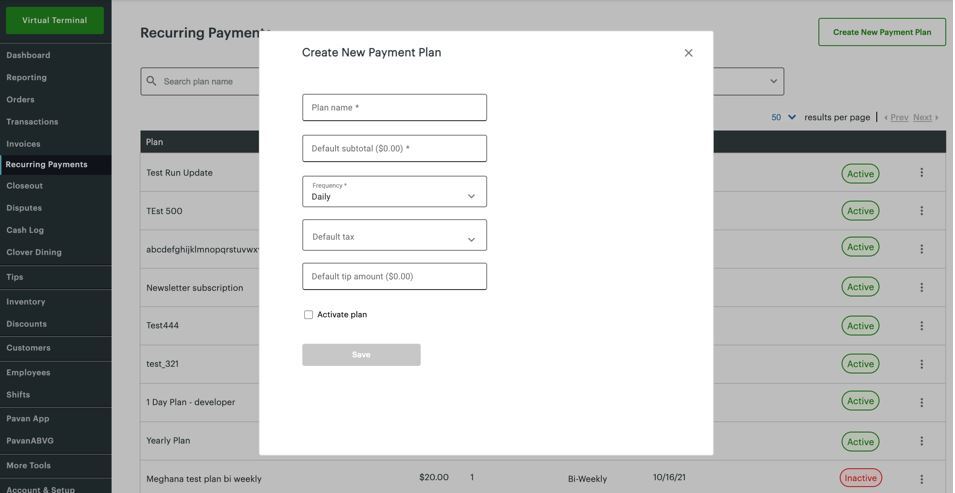 Step 4: Add a Customer
Click on customers in the left navigation menu and search your customer database to add users to your new membership subscription with Clover. Remember that the customer must have a card on file for the recurring payments to work.
Step 5: Choose a Date
Finally, select a date to begin the recurring payment, and you're good to go. When your customer's account is charged, they will receive an automatic confirmation that the payment went through.
How to Boost Revenue with Clover Recurring Payments
If you want to take advantage of the new Clover recurring payments feature, but don't know where to start, here are a few ideas for implementing this strategy.
Offer Customers a Discount if They Turn on Autopay
One easy way to incentivize customers to take advantage of the recurring payment feature is to offer discounts and other deals if they choose a subscription model over purchasing items individually.
For instance, if you sell goods that customers naturally need to replenish, such as supplements, coffee, soaps, or shampoos, you can offer them a discount for filling regularly rather than making a purchase when they run out. 
Say your product is typically $50, but if they turn on autopay, they can get it for $45, saving them 10% every time they make a purchase. This is a smart way to entice customers to take advantage of membership subscriptions with Clover because you both benefit.
Amazon's "subscribe and save" feature is a popular example of this approach.
Sell Products or Services that Exclusively Use Auto Pay
Another possible idea is to institute new products and services that are only available through a subscription model. Exclusivity is a great way to drive demand and may be enough to convince customers on the fence to set up Clover's recurring payments. 
You can either create an entirely new item that can only be bought through a subscription, or you can bundle existing products in a way that requires a recurring payment. This is more common with services, such as streaming services like Spotify that are only available through a monthly subscription plan.
Highlight the Predictability of Recurring Payments
If you sell products that often fluctuate in price or are known to increase over time, you should try to promote the predictable nature of Clover's recurring payments. 
An excellent example of this is cell phone companies. You could charge people for the amount of data they use per month or offer an unlimited plan for a monthly fee. This can often be a simple arrangement for both sides because the payments become easier to predict and calculate. 
Create Penalties for Late Payment
Another way to incentivize recurring payments is to establish clear penalties if customers don't pay on time. In many ways, this is the reverse of offering a discount for using autopay, and this approach works better for established businesses that have already built some brand recognition and trust. Even a small fee, like a $5 late fee, can encourage customers to enroll in automatic payments.
Offer a Trial Period
Free trials are a great way to encourage your customers to try something new. They may be hesitant to turn on recurring payments if they aren't sure they'll get value out of your service. But if they try and find that they get something out of it, then they'll likely be more open to setting up autopay.
You can even ask for their credit card upfront and give them the option to cancel any time before the end of the trial. That way, as soon as the free period is over, you can begin the subscription membership through Clover.
Payment Processing The Smart Way
You can use Clover's recurring payments feature to expand your business in so many different ways. If you need help getting started, Synapse is happy to answer your questions. If you don't currently use Clover but are interested in trying it, we can help with that too. New clients receive a free Clover POS system when they enroll in our most popular plans. Not only can you save hundreds of dollars every month on payment processing fees, but you'll receive a state-of-the-art POS system pre-programmed and ready to start taking orders.
If you already have your own POS system, you can keep your equipment and still make the switch to Synapse to lower your transaction fees each month. Let us show you exactly how much you'll save by comparing your most recent merchant statement. Sign up online or call us at 800-925-5191. We look forward to growing your business.