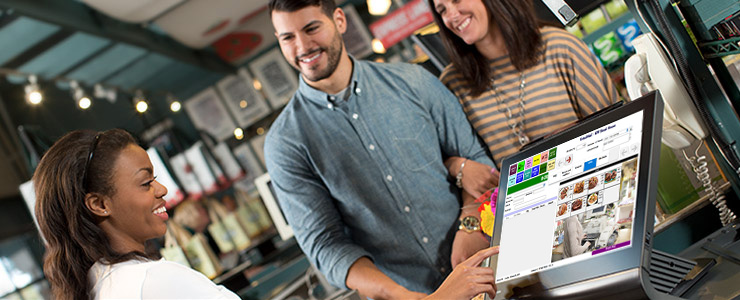 Is Clover a Good POS System for Your Business?
The Clover point-of-sale system is a big step above a standard credit card terminal. It offers a modern user interface, analytical tools, and essential features for running your business.
Many business owners wonder, is Clover a good POS system compared to Square, Toast, and its many other competitors? If so, what makes Clover the best option? While any system has its merits, there are several reasons why we believe Clover is the superior choice. Here is a look at the clover POS pros and cons.  
Functionality: How Does Clover Compare?
Clover's main competitor is Square because they are essentially after the same customer—a small to medium-sized customer-facing business. To find out if Clover is a good POS system, it's worth looking at these two products side by side.
Their core features are similar. Both have a marketplace where you can choose the applications you need for your business, such as Table Service for restaurants or Scheduling with Commission Tracking for salons. While certain customers may prefer one over the other, when it comes to functionality, Square and Clover seem virtually identical.
Point-of-sale systems that are industry specialized, such as Toast for restaurants or Vagaro for Salons, may have attractive features for businesses in their target industry but fall short in other areas. Also, the functions they offer out-of-the-box can almost always be recreated through the application marketplaces of Square and Clover, meaning these two POS systems are at the forefront of just about any industry. 
Pricing: Clover POS Pros and Cons
Next, let's take a look at pricing to determine if Clover is a good POS system. The actual point-of-sale system equipment costs around $2000 for a complete Clover setup. However, Synapse provides the full system free of charge to any client who wants it when they sign up for our standard subscription program.
We mention this so our customers fully understand the Clover POS pros and cons before automatically choosing a cheaper point-of-sale system like Square. A Square POS will cost around $1400 for a similar setup, yet it's important to learn about all the pricing options before you make a decision.
Companies like Lightspeed, Square, Toast, and others also charge for their equipment. But while they may be slightly cheaper upfront (and some are actually more expensive than Clover), you must also consider how much each POS system will cost your business in the long term. 
Square, Toast, Lightspeed, Vagaro, and most others package their point-of-sale system with their processing services. So any money you save by choosing a cheaper setup may cost you more in the long run.
You are required to use them as a merchant processor when using their system. In some scenarios, Square may be a cheaper option overall for your business, but this is only the case for merchants processing very low monthly volumes and buying the equipment outright. So to find out if Clover is a good POS system for your business, you must consider how higher processing fees will impact your business in the long run. You can read all about the differences in pricing on our blog.
Exclusivity and Contracts: Is Clover a Good POS System for All Merchants?
Clover can be very expensive for a business if you choose the wrong merchant processing company to work with. The Clover POS system is agnostic to any merchant processing company using the First Data platform, which is one of the biggest in the world and preferred by most processors today.
When weighing the Clover POS pros and cons, remember that it's the cheapest option when using Synapse—because the hardware is free. But ultimately, you can use the Clover POS system with any payment processor you like. This is not the case for companies like Square and Toast that require you to use their processing services. They do that for a reason.
In the "Payment Terms" section of Square's terms of service under section 4 (Our Fees), you will find a line that says,
"Subject to the General Terms and these Payment Terms, we reserve the right to change the Fees upon reasonable advance notice."
Square has changed the pricing before, and some businesses are paying far more than they used to. Being able to raise rates whenever you want is a huge issue.
You can read more about the impact this rate increase had on businesses.
Toast has very similar lines in the terms of services, including potentially charging customers to purchase from Toast-based services:
"As of the date of these Terms, Toast does not charge you a fee to make Purchases from Merchants using Toast Services. We reserve the right to charge fees in the future, and any fees applicable to a Purchase or Payment Transaction you make will be clearly disclosed to you prior to the completion of your Purchase."
And, in their merchant agreement under Section 6 (Billing and Payment),
"Toast reserves the right to change any other Fees and/or processing rates upon thirty (30) days' prior written notice to Merchant."
Other POS systems could raise your rates at any moment, but by keeping its system open to any processor, Clover stays competitively priced.
Why is Clover a Good POS System for Most Businesses?
Clover is Tailored to Your Business
The Clover system can be tailored to your individual business needs. It can push you to grow into channels you haven't tried before, such as gift cards, loyalty programs, ecommerce, or text-message marketing. All of these channels have tremendous benefits that increase revenue and brand loyalty. Consider these critical features when weighing the Clover POS pros and cons. 
Here is an example of a system that is set up for a quick-service restaurant.
Why Use Gift Cards?
Gift cards provide an excellent opportunity for customers to bring your product to their friends or family and increase word-of-mouth marketing. People who buy gift cards say they like your business and want to share it with somebody else. They are essentially paying your business to bring you another customer!
Easy gift card processing is one reason Clover is a good POS system for many small businesses that want to grow. Gift cards are a great way to increase customer loyalty, customer base, and revenue.
A survey of 1,100 consumers in 2014 done by the Retail Gift Card Association found that 72% of people who buy gift cards also buy something for themselves. The latest research suggests that the gift card market is currently valued at $162 billion in 2022 and will grow to $388 billion by 2027.
Why Use a Webstore?
A webstore is an excellent opportunity to give your customers access to your inventory and place orders through a channel that requires no up-front interaction. Doing so can save time as customers have an option to see if you have something in stock that they need instead of calling.
As reported by sense360, 25% of all survey respondents said they ordered through a webstore (restaurants specifically). Today, most customers want the option to be able to place orders online, so you are wise not to ignore this obvious demand. Clover is the best POS system for handling online sales.
Why Use a Loyalty Program?
It is much easier to keep existing customers than it is to find new ones. A loyalty program is an excellent way to stay in contact with the customers who have shown you the most loyalty.
There is plenty of statistical evidence that shows loyalty programs have a direct impact on customer retention:
Loyalty programs are an excellent tool for businesses to connect with their customers. You can influence your customers' purchasing decisions and build brand loyalty in a way that is hard to replicate.
Is Clover a good POS system for implementing loyalty programs? Yes, it makes the process simple and easy so you can reward your customers for their repeat business. 
Why use SMS Marketing?
SMS is a great way to share discount codes and stay in contact with your loyal customers. Alerting them of new sales, items, meals, daily specials, or appointment reminders will ultimately drive more revenue.
The data shows this to be the case.
According to

Pew Research

, 97% of Americans own a cellphone.

A study by

Brandfolder

found that 90% of all text messages are read within 3 minutes of receiving them.

According to

Businesswire

, 58% of consumers say that texting is the best way to reach them quickly.
Data analysis is crucial to running a profitable business in today's world. SMS marketing lets you know who your customers are and understand what they like. You can then reach out to them with special offers, promotions, appointment reminders, and more at the touch of a button.
So is Clover a good POS system for your business? If you're looking for robust functionality, low prices, and the ability to implement cutting-edge marketing campaigns and programs, Clover is a great choice. Get in touch today with any questions about the Clover POS pros and cons and how it integrates with Synapse.